For Families
What's on for families and children in the Whitton team?
Each church has a "Family Corner" with facilities for children, who are very welcome at all services.
Each church runs a "Christingle" service every year – times and dates vary; Aldbourne and Ramsbury also each have a Crib service on Christmas Eve.
The schools come into church for Easter, Harvest, Leavers' and Christmas Services, etc as do other village groups, especially at Harvest time.
Services for the Whitton Team of Churches
Activities for Children in the Whitton Team
Breakfast Church
Breakfast Church is an all age event which takes place on the 4th Sunday of the month at St Michael's Church, Aldbourne. We meet for breakfast at 10.15am. During the service (11am – 11.45am) the children are taken out to enjoy activities in the great outdoors. We all meet back in the church at 11.45am for refreshments. Parents are welcome to accompany their child/ren or stay in church for the service. If you decide to stay for the service one of our DBS checked helpers will look after your child/ren and bring them back to the church at the end of the service.
Find Breakfast Church in Aldbourne on Facebook
Flying Fishes

Flying Fishes under 10's Club at Ramsbury Church Rooms. First Wednesday of each month.
Doors open 3pm for 3.15 to 4.15pm.
Flying Fishes offers activities, games, a talk or film with themes that are around everyday life set in a Christian context and refreshments for primary aged children and their parents.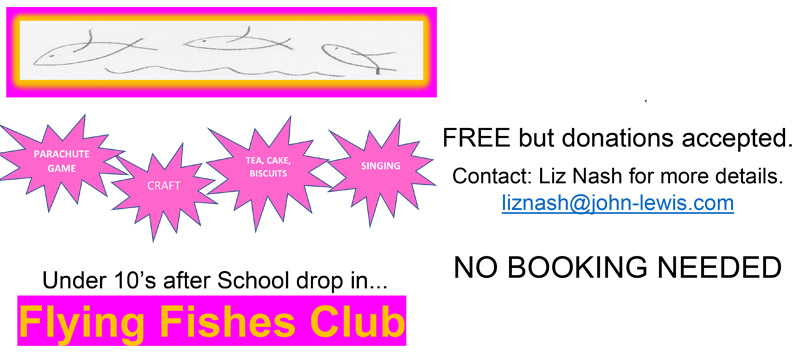 Shining Stars
Shining Stars meets in St Michael's School, Aldbourne on a Thursday in term time, 3.15 – 4.15 pm. We think about the day's "Open the Book" story, and we have crafts, activities and songs related to that.
"Sparklers" (for babies and pre-schoolers and their carers)
Mondays in term-time, 9.15am to 10.30am at St Michael's church, Aldbourne: songs, story, activities, playtime and refreshments.
This will often be expanded into : "Sparklers Plus" on the first Monday of a holiday or half-term break, starting later (from 10am) and incorporating activities suitable for older siblings and other children. For more information please contact Sue Rodd (Team Vicar) 01672 541571.