Baydon
Services for the Whitton Team of Churches
Links
St Nicholas' Church, Baydon – A Church Near You
Latest news on the St Nicholas' Church page – Baydon Village Website
Baydon St Nicholas C of E Primary School
Find St Nicholas' Church Baydon on Facebook
Help to Save Baydon St. Nicholas Church
Marlborough News article 20 June 2019:
http://www.marlboroughnewsonline.co.uk/villages/baydon/8629-fight-is-on-to-save-baydon-s-historic-but-crumbling-church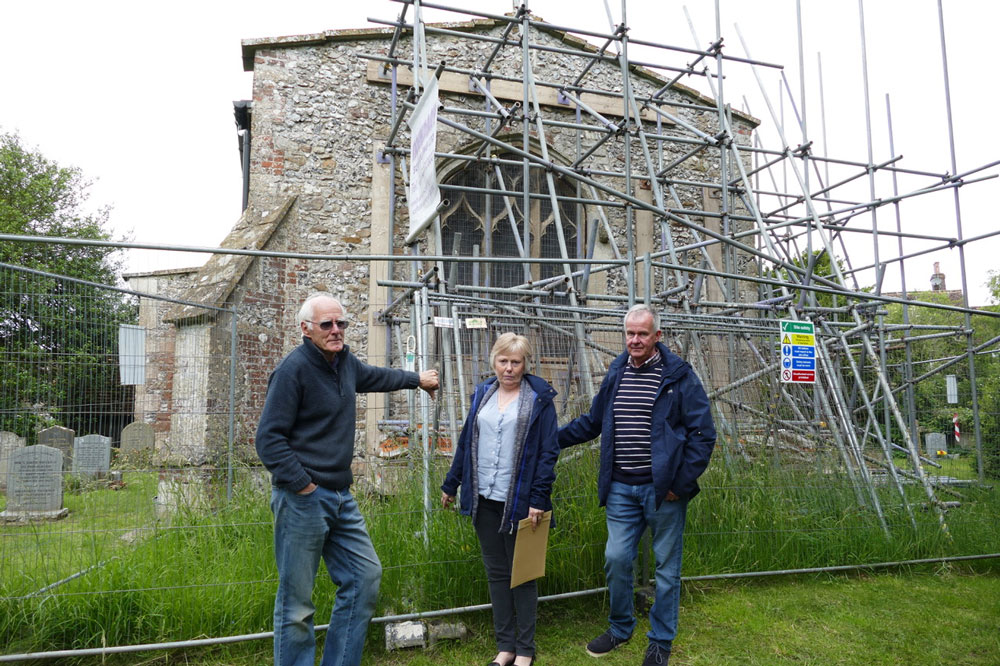 Update May 2019: The chancel wall project is on-going so the focus is currently on completing the North Aisle.
We have approached the scaffolders to see if we can purchase the scaffolding instead of paying £108 + VAT per week.
We have sent an Informal report to the Diocesan Advisory Committee regarding changing the roofing material from lead to stainless steel. We have applied to Wiltshire Council for Planning permission to replace the roofing material with stainless steel. If the Diocesan Advisory Committee insists on lead, then we will have to re-submit our application for planning permission for lead and pay the additional fee, but we are hoping that we will save time by putting the request in now.
Our architect has drawn up provisional plans and written a very succinct report but we are waiting for our Insurers to put in a (hopefully) positive report for the change to stainless steel.
We are still receiving a great deal of support from the Whitton Team of churches – physically and financially. Without their help we would be in a very awkward place!
Our Community Open Garden event on 6 July is clearly showing how kind and supportive the people of Baydon are, with many organisations and individuals offering their help. A huge thank you to them all.
If you would like to make a donation our bank details are:
For building fund: 09-01-54 87637089
For non-building fund (running costs): 09-01-54 80637083
If possible please could you gift aid any donation by requesting a Gift aid form from: pamela.stnicholaslcc@gmail.com
A GoFundMe page has also been set up on Facebook to help raise the money needed to effect repairs to the Church infrastructure. Click here to go to the page. It will open a new tab in the browser.
St Nicholas 100 Club
Spaces are still available in the club for anyone who would like to support Baydon's village church whilst being in with a chance to win money each month. Please contact Pamela at pamela.stnicholaslcc@gmail.com if you'd like more details or visit the church page on the Baydon village website.