Aldbourne
Services for the Whitton Team of Churches
We regret that St Michael's Church, Aldbourne will be closed temporarily from the 16th November 2020 to allow high level redecoration to be carried out. The work is expected to last three weeks.
Links
St Michael's Church, Aldbourne – A Church Near You
The Methodist Church in Aldbourne – opens a link to the North Wiltshire Methodist Circuit website. Contact details are also on the the new version of the Aldbourne Net village website
The Aldbourne Net Village website – home page
St. Michael's C of E (Aided) School, Aldbourne
Virtual Balloon Race in aid of Riding for the Disabled
Don't let lockdown stop you having fun with your family and friends. Join our virtual balloon race and settle in for a nail-biting ride across the paddocks in support of Lambourn Riding for the Disabled. The RDA is the St Michael's Church Aldbourne chosen charity for 2020 and 2021.
Virtual balloon races are eco-friendly (flying on a webpage rather than in the atmosphere) and you can track the progress of your balloon during the race between 21st and 28th November. Balloons cost £3 and the prize for the balloon that travels furthest is a £50 Gift Voucher. You can also set up local competitions with family and friends to add to the suspense.
To enter go to https://www.balloonrace.com/LambournRDA.
Pastoral Care
We are here to support you during this difficult time.
Please email pcc@whittonteam.org.uk if you'd like to be added to our mailing list for resources.
More contact details, please get in touch if you need or can offer help:
The Revd Sue Rodd 01672 541571 revsuerodd@btinternet.com
The Revd Rhona Floate 01672 540523 rhonafloate@aol.com
Parish Administrator 01672 520963 teamoffice@whittonteam.org.uk
or email: helpline@whittonteam.org.uk
Please be aware of people who may be very lonely at present, and keep in touch wherever you can!
Community Contacts, Aldbourne – please click on the updated list below for a clearer view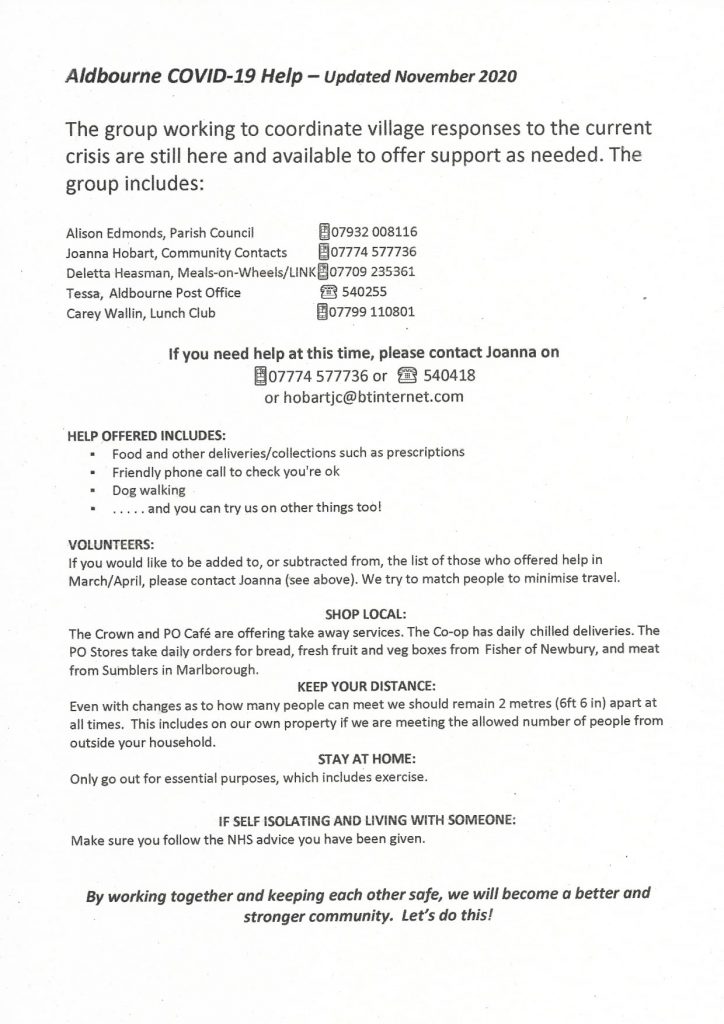 How you can help St Michael's Church Aldbourne
It costs over £1,000 a week to keep our church ticking over. Over 90% of our income comes from donations. If you would like to support our church, you can do so:

1. By payment direct to our bank account, either as a one-off donation, or as a regular gift. Our bank account details are here.

2. By on-line giving through our CAF (Charities Aid Foundation) page –click here for details. Please note that CAF payments are paid to us net of a small administration fee

3. By cheque made out to "Aldbourne Local Church Committee" and delivered for the attention of Treasurer, St Michael's Church Aldbourne, c/o The Church Office Back Lane, Ramsbury, Marlborough, Wilts SN8 2QH

If you are a UK taxpayer and would like us to collect Gift Aid on your gift, please complete this form and send by post "For the attention of Treasurer, St Michael's Church Aldbourne, c/o The Church Office Back Lane, Ramsbury, Marlborough, Wilts SN8 2QH", or email to treasurer.smc.aldbourne@gmail.com

All gifts, small and large, are very appreciated. Thank you.
Friends of St Michael's Church
The Friends of St Michaels Church are a village charity dedicated to ensuring the future of our heritage church building and churchyard for the benefit of the whole community. If you wish to find out more, or become a member, then please pick up a leaflet in the church or contact us at friendsofstmichaelschurch@gmail.com You can also download our information leaflet, with membership/subscription form, HERE. (7 meg PDF opens in new window.)
St Michael's Churchyard Heritage Project
The St Michael's Churchyard Heritage Project, carried out in 2017 and 2018, has sought to record, as far as possible, the inscriptions on each visible gravestone, building on key details captured in the Wiltshire Family History Society survey carried out in the early 1980s, and the information in St Michael's Churchyard Burials file, located in the church.
Thanks to the efforts of project volunteers, we now have a comprehensive digital record of burial plot information dating back to the second half of the nineteenth century, including plots for which there are no headstones, as well as photos of each gravestone (from 1677), with full inscriptions, to the extent that these are legible. This digital record is available through the Aldbourne Community Heritage Group website, at http://aldbourneheritage.org.uk/village-history/aldbourne-monuments-digital-record A book is available for reference in the church that looks at, among other things, various aspects of the project, the history of the churchyard, interesting features of some of the stones and the people that they remember.